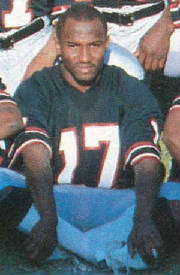 Items do not need to be game-used to be cherished by Houston-Gamblers.com, and we always love the possibility of finding memorabilia that is a bit on the mysterious side. Thanks to Brian Wilkens of Grapevine, Texas, we were able to acquire just that with the purchase of the following white game jersey in December of 2008.
According to Wilkens, his former brother-in-law worked for Burnham Service Corporation, a transportation company that assisted in the removal of assets from the Gamblers' closing team facilities, circa late 1985 or early 1986. We can only imagine the tons of jaw-dropping relics and game equipment the movers laid their hands on while executing their duties that day! But the one that counts here today is the jersey Wilkens' brother-in-law was given as a thank you for his help.
The beauty of collecting a team that only existed for two years is the ease of identifying players and uniform numbers. In this case, however, a bit of detective work was needed, as no Gamblers player ever wore the number 17 during a preseason or regular season game. The mystery was solved when we noticed Clarence Verdin wearing the number 17 in the Gamblers' 1984 team photo. Upon scouring the 1984 Gamblers media guide, we found that Verdin's better-known number 89 was already taken by wide reciever James Davis (Fort Hays State). Davis was released before the 1984 preseason began, which allowed Verdin to claim the number 89 before participating in his first preseason game.
What we have here is a game ready away jersey (minus the nameplate) originally produced for Clarence Verdin. It never saw game action and shows no use. We're very glad to have this in the Houston-Gamblers.com museum, as it is an interesting part of the team's history.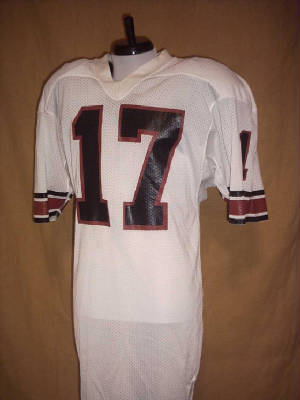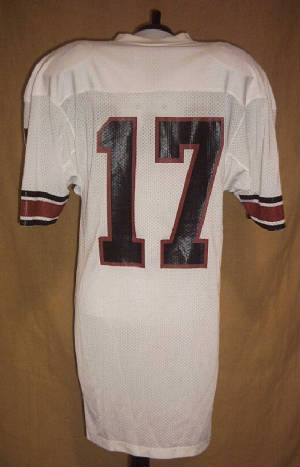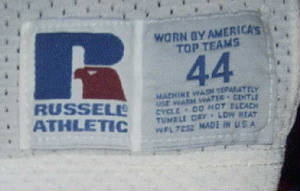 Back to the Game Used Museum Menu
View Clarence Verdin's Biography Page