Kailani is the Highrollers advisor for Houston-Gamblers.com. We will be working with her and adding Highrollers-related content to the site on an ongoing basis.

Thanks Kailani!
Talented, intelligent, personable and beautiful. These are just four of the adjectives associated with the Gamblers Highrollers.

The Highrollers, a unique combination of dance and cheer team, under the leadership of directors and choreographers Lea Geeslin and Terrence Karn, were selected through an audition process at the Houston Westin Galleria. Although the Highrollers were extremely attractive, they were not chosen solely on looks. Their selection was based on a point system, entailing dance ability, personality, appearance and fitness.

The Highrollers' backgrounds were as diverse as the functions at which they represented the organization. The team was comprised of professional dancers, actresses, models, flight attendants, teachers, secretaries, students, and occupations in medicine and law.
An early Highrollers TV appearance, filmed on Feb. 7, 1984 (just two weeks after the squad was chosen!)
The Highrollers in action in the Dome on March 26, 1984.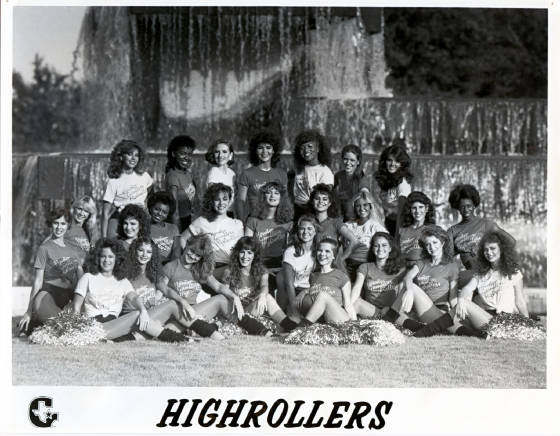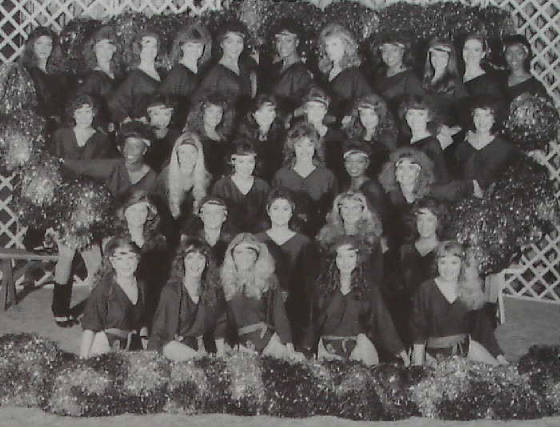 Tryouts for the 1984 Highroller squad were held at the Adam's Mark Hotel on January 22 and 23, 1984. On Monday morning, January 23, Gamblers' flagship radio station 104 KRBE broadcast the names of the dancers who made the squad. The "Highrollers" name was also announced for the first time, chosen from more than 2,000 name suggestions.
Lisa Barcia Tami BillgerJohnna BoylesJulie BurrowsVan CameronTerri CrawThomasena CulbertsonAngela CurryGerry DvoretskyAmy EcholsTatiana FluentMonica FuertesBarbara GonsoulinLeslie HenriciPam ImlerDonna JacksonVivian JacksonFrances LoganKim LoweryDebbie MartinezKailani MaurerDeirdre MillerRobin MueschkeCarol NoriegaStella OgdenFrances PintoDebi PlattKim PontonJulie PostleSherri RatherRobin RayKarla Self Lisa StraitMary Jo WadeLisa Wilson
1985 Highrollers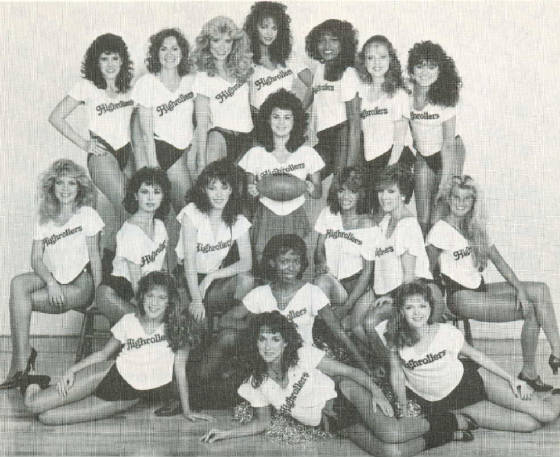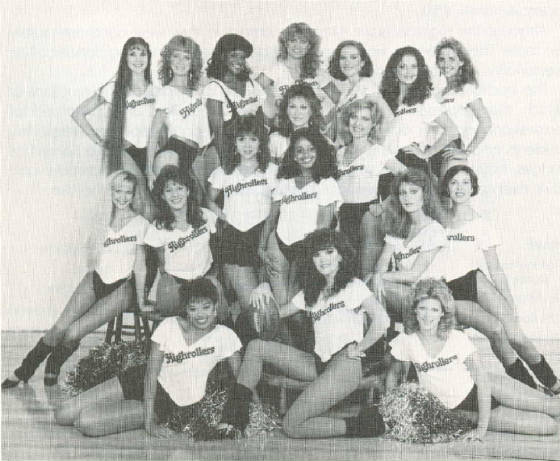 Tatiana Anderson (Dance Captain)Joyce BallLisa BarciaRenee BeardKathy BerryClarla BlackmonRaenell BlakeStella Ogden BoneJohnna Boyles (Dance Captain)Van Cameron (Vocal Cheer Designer)Terri CrawThomasena Culbertson (Squad Leader)Angela CurryLisa DanielsGerry Dvoretsky (Squad Leader)Monica FuertesCarla GrahamMichelle HatmakerLeslie Henrici (Official Demonstrator)Pam ImlerVivian JacksonJoy KunzKim LeeLisa MackeyKailani MaurerJoyce MikleCarol Noriega (Director's Assistant)Frances Pinto (Dance Captain)Debi PlattKim Ponton (Official Demonstrator)Julie Postle (Dance Captain)Sandy RamirezMichelle RiversKarla Self (Squad Leader)Jean ShirleyCarolyn SikoraAnnette VasquezLisa WeiszLisa Wilson (Asst. Choreographer/Squad Ldr.)Martha ZabrokySuzanne ZabrokyAmber Zeiler
Video clip of the 1984 Highrollers.