View a Game-Used Coaches Shirt
Pardee led the Gamblers to a division title their first year of existance in 1984, the first time this feat was accomplished in the history of professional sports... College and Pro Football News Weekly USFL Coach of the Year in 1984... After a 25-year absence from the state of Texas, Jack Pardee returned home to become Head Coach of the Houston Gamblers... Born April 19, 1936 in Exira, Iowa, but raised in Christoval, Texas, Pardee attended Texas A&M University, graduating in 1957 with a Bachelor's degree in business administration... While at A&M, Pardee played for the Aggies under head coach Bear Bryant, competing as a fullback and linebacker... In 1956, his junior year, Pardee was voted All-Southwest Conference, All-American and Academic All-America... The following year, Pardee was a first-round draft choice (14th player chosen overall) of the Los Angeles Rams... He played thirteen seasons with the Rams and two years with the Washington Redskins, winning Defensive Player of the Year honors once as a Redskin linebacker... Pardee's career record as an NFL linebacker includes 22 interceptions, five for touchdowns... In 1974, Pardee began his professional coaching career with the Florida Blazers of the World Football League. In the team's inaugural year, he took the Blazers to the league's championship game before bowing to end the season at 13-6... After one year in the WFL, Pardee then moved on to the NFL, where he began another head coaching job with the Chicago Bears... While with the Bears (1975-77), he led the team to the NFL playoffs for the first time since 1963, and earned NFC Coach of the Year honors in 1976... After three seasons with Chicago, Pardee then became Head Coach of the Washington Redskins in 1978... As the 'Skins" coach from 1978-80, he also took his team to the playoffs and was named Associated Press Coach of the Year in 1979... Following his departure from the Redskins' organization in 1979, when he yielded to Joe Gibbs, Pardee then spent a year with the San Diego Chargers in 1981, serving as the club's defensive coordinator... Since 1981, Coach Pardee has been employed by the Runnels Mud Company of Midland, Texas, acting as the company's Vice-President for Marketing.

Head Coach Pardee chats with SportsRadio 610 at the Gamblers Reunion, held on June 12, 2010.

Darrell "Mouse" Davis
Offensive Coordinator 1984
Click here for "Mouse" Davis Interview
Native of PaLouse, Washington... Brought to the Gamblers over 25 years of high school and college coaching experience... Served as offensive coordinator for the Toronto Argonauts of the CFL in 1982... First gained national recognition for his wide open passing attack while offensive coach (1974) and head coach (1975-80) at Portland State University... While at Portland State, his teams led the nation in passing and total offense for six consecutive years (1975-80), averaging over 5,000 yards of total offense per season and 35 points per game... Also led the nation in scoring three of those years... Compiled a 42-24 won-lost record at PSU... His year-by-year coaching records at Portland State: 8-3 ('75), 8-3 ('76), 7-4 ('77), 5-6 ('78), 6-5 ('79), and 8-3 ('80)... His PSU teams also set 20 NCAA Division I-AA offensive records... In 1980 the Vikings became the NCAA's all-time point producers, scoring 541 points in 11 games for a 49.2 points per game average... For three consecutive years, the Vikings also won three national statistical championships, averaging 49.2 points per game, 434.9 yards passing and 504.3 yards of total offense per game... Fourteen of his players went on to play professional football, including quarterback Neil Lomax of the St. Louis Cardinals and noseguard Fred Nordgren of the Tampa Bay Bandits... Born September 6, 1932, Mouse graduated from Western Oregon State University in 1955... While at Western Oregon, he lettered in football, basketball and baseball... won All-America honors as a quarterback and running back... Continued his education at the University of Oregon, where he earned his Master's degree in Education.
Mouse Davis speaks at the 2010 Houston Gamblers Reunion
John Jenkins
Offensive Backs Coach 1984
Offensive Coordinator 1985
Born June 21, 1952... Native of Pampa, Texas... Took his first pro coaching job with the Gamblers after seven years in the college ranks... Originally joined the Gamblers as the Special Teams coach in December of 1983, and was elevated to Offensive Coordinator in October, 1984... Coached the linebackers of Mississippi State from 1979-1983... Assistant coach at his alma mater, Arkansas, from 1977-1978... Assistant head coach and defensive coordinator at Arkansas High School in Texarkana, Arkansas in 1976... Coached high school football in Texas, also serving as offensive coordinator at Nacogdoches High from 1974-1975... College quarterback and running back under Frank Broyles at Arkansas from 1970-1973... Competed in 1971 Liberty Bowl and was voted the Soutwest Conference's Most Versatile Athlete in 1971... Also played baseball for the Razorbacks... Broke several school batting records in 1974 when he was voted team MVP and was one of the top hitters in the nation... Graduated from Arkansas in 1974 with degrees in physical education and psychology... Author of "Into the Open Field," a technical book on football... Also produced two instructional training films: "Fundamentals of Dropback Passing" and "Linebacker Play in the 4-3 Defense"... Hobbies include weightlifting and handball.
Coach Jenkins at the 2010 Gamblers Reunion.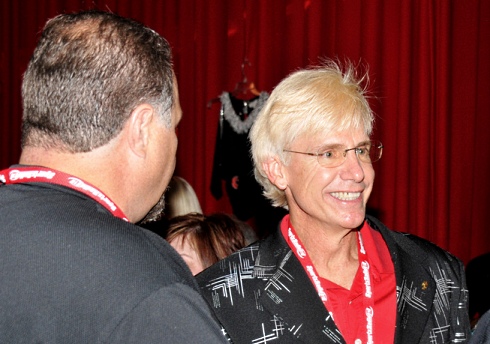 | | |
| --- | --- |
| | |
Darrel "Mouse" Davis

Offensive Coordinator

1984

John Jenkins

Offensive Backs Coach (84)/ Offensive Coordinator (85)

Jim Eddy

Defensive Coordinator

1984-85

June Jones

Receivers Coach

1984

Robert Ford

Receivers Coach

1985

Bob Young

Offensive Line Coach/ Strength and Conditioning

1984-85

Ray Alborn

1984-85

Pat Thomas

Defensive Backs Coach

1984-85

Kevin McLain

Special Teams Coach

1985

Hugh Massey

Offensive Assistant (Volunteer)

1984-85

Bruce Davis

Defensive Assistant

1984-85

Gretchen Gray

Secretary

1984

Susie Shea

Secretary

1985